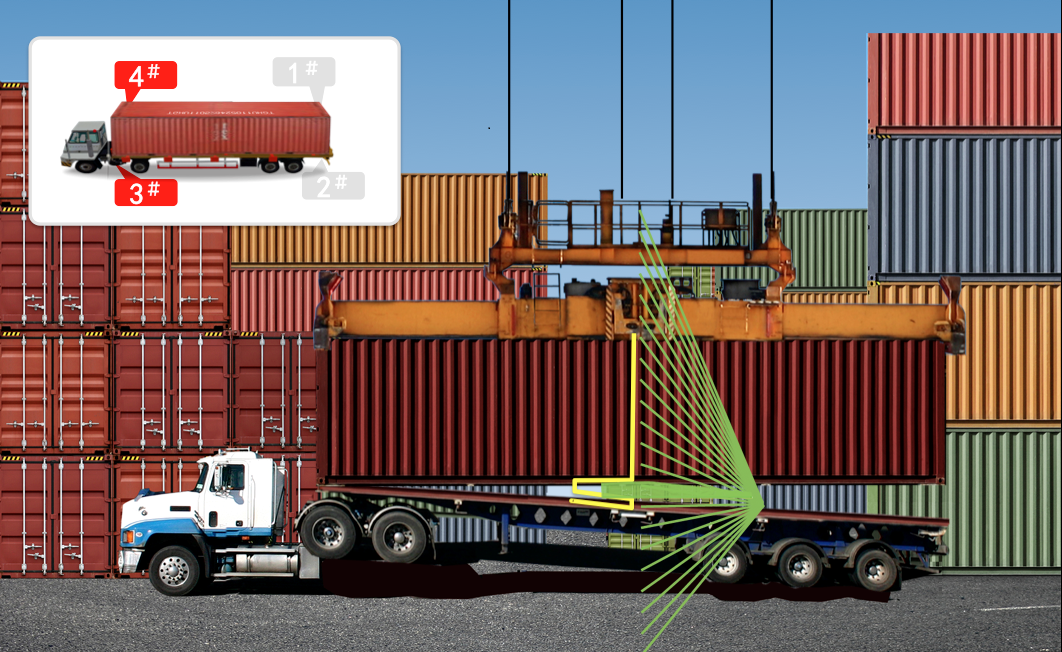 Introduction
Then the container trailer will be lifted with the container together. It will often cause a lifting container trailer accident. Applying two-dimensional laser scanning, pattern recognition and automatic control technology, CLP system could achieve the real-time location detection of spreader, containers, container trailers and other objects. According to safety control strategy, CLP system controls the hoist and accomplishes the Chassis Lift Prevention function. Then it will prevent the accidents in operation and enhance the safety of container handling.
Features

CLPS can achieve the real-time location detection of container chassis and container by using the 2D laser scanner; Chassis Lift Prevention stopping distance: 40 cm;
CLPS can intelligently eliminate the interference of laser detection caused by the internal trailer.
CLPS provides serial communication, Profibus etc. for connecting to PLC;
A one-time reset button is provided on the operator's console, it can increase the system availability; Compatibility with a variety of laser sensors: HOKUYO, SICK, etc;
CLPS provides professional software to achieve visualization demonstration in real time, make the system easy to maintain and upgraded.
Technical Advantages
Continuous real-time separate detection between container and chassis
Laser scanner scans the chassis and container real time, CLPS constructs the vector model of chassis and container profiling though the laser identification algorithm, their position relation can be described accurately at the unloading operation area.
Supporting all type of twistlock unlock fault
Building the chassis operational areas location model though collecting accident data of all conditions, comparing with the real-time data in the operation, through the dynamic correlation fitting algorithm, identification of various types of non unlock status: one, two, three, four.
The height of the chassis doesn't make any difference
Using the two-dimensional laser scanner real-time to detect the distance between container chassis and container, the same security strategy adapts to various chassis height.
Adapting to many kinds of the chassis
Employing more reliable identification algorithms, CLPS can adapt to different kinds of chassis.
Adapting to various operating mode
CLPS can provide the unloading container protection of single 20ft, 40ft, 45ft, etc.
Self-check Function (Safety)
With self-check function, when the CLP System has any fault, it will warn the operator by flash lights or buzzer, then CLP System can be bypassed manually or automatically, and the crane can be operated as normal without CLP system.

Chassis Lift Prevention System ( CLPS)